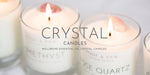 All Candles
Infused with crystal energy and the natural healing properties of essential oils, they have been designed to re-balance and re-align our mind, body and soul.
Hand-poured with 100% soy wax and natural essential oils, the crystals are hand-selected and each paired with essential oil blends to harness and enhance its' magic.  
Crystals have been used for centuries and in cultures all over the world to enhance balance and positivity into our lives. Everything we can see and feel has an energy so it's no wonder that crystals, being millions of years old have extraordinary energy with each one emitting a unique vibration. 
​HOOF & PAW's essential oils have been carefully selected to compliment the hand-selected crystals used to enhance it's "magic" into your life.
Only natural essential oils are used in HOOF & PAW candles.
Essential oils are naturally occurring substances found in different parts of plants. Research on aroma reveals that we respond emotionally more to smell than to any of our other senses. Because of this, aromatherapy enables us to benefit from the special properties of pure essential oils. 
Soy wax is natural, non- toxic and made of vegetable oil.